Originally published at: https://www.ronenbekerman.com/making-of-earth-sheltered-villa/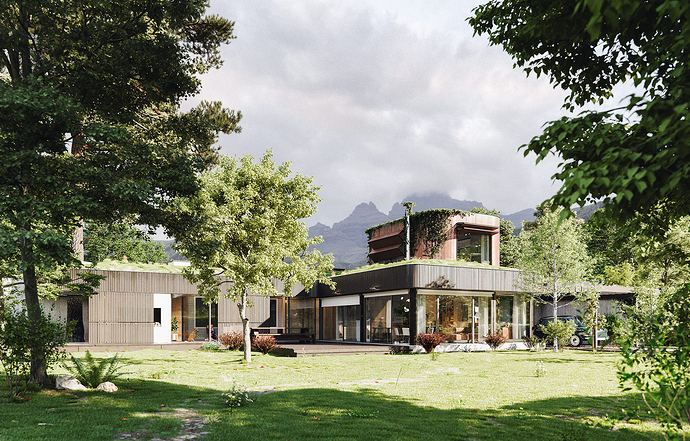 David Males takes us behind the scenes of the EARTH-SHELTERED Villa, diving deep into his process and thoughts from start to finish as he uses SketchUp, 3dsmax and Corona Renderer as his main tools of choice. Enjoy!
Introduction
Hello Everyone,
My name is David Males, and I am working as an ArchViz "artist" currently based in Slovakia, trying to walk my line in this fast-paced 3D world we almost breathe-in nowadays. For most of you who do not know me, I thought I would start a little bit with my background.
I first came to the contact with architectural imagery and 3d in general back in 2013 during my studies called "Architectural Technology and Construction Management" in Denmark, where we used SketchUp and Revit as our main 3d tools, trying to do some completely basic visuals for our design proposals.
The programme was primarily focused on the technical side of the buildings, but in the process, I somehow became much more interested in the architecture itself, its visual side and the way how a properly designed building can affect not only its surroundings but often also how people (and even nature) interact with it.
Later, during my exchange semester in Melbourne we learned basics of 3dsmax, and there I began to look a little deeper into more advanced architectural visualizations and the magic behind.
It was also around that time when I found out about Juraj Talcik and his Icelandic House project, whose work inspired me to the level that I decided to follow this path which fluently combined my growing passion for architecture with artistic freedom of a photographer.
As I've dug deeper into various articles, websites, and forums, I gradually discovered other industry luminaries like Alex Roman and Bertrand Benoit and was astonished even more.
So after completion of my bachelor's degree in 2016, I spent about a year studying the basics of CGI on my own and tried to learn as much as possible to be able to work as an ArchViz Freelance Artist.
At this point I would like to thank Ronen who showed interest in my work, asking me to share more information about the earth-sheltered modernist villa I did about a year ago.
You can find the original project here.
I thought about this as an opportunity for a "new guy in the business" like me to promote myself, so I promised to do a remake with a new workflow I've improved bit by bit over the time. Unfortunately, as you all know it is sometimes difficult to find time for this kind of work and being busy with commercial projects resulted in few months delay. Anyway, even after this long delay, I hope you'll enjoy this article and find it valuable for you.
Do not expect a deep level of technical insight. As a guy without a long CGI milage, I cannot offer that yet, but I will do my best to share as much as I can and hopefully someone will find it useful. I'm using and focus mostly on SketchUp, 3dsmax and Corona Renderer.
Enjoy your reading!