Hi Folks,
(Submiting entry from the challenge page wasn't working so I set up a new topic)
Two of the final images for the challenge. They need some explanations maybe. A week after the last upload, I was struck by serious family problems. When I was able to start working on the project again, my mind was elsewhere and my motivation had fainted. I wouldn't look at the challenge page has I was feeling ashamed and disappointed. So I didn't realised the deadline has been extended…
Monday morning, under the pressure of that deadline (which I thought was today) I decided to still submit two entries for the challenge. To be able to achieve the images I set up a couple ofrules :
Finding new views angles to create some excitation and stay motivated
Maximum two days per image and Friday for the final adjustments
Phone in airplane mode to keep the shit away while I was working
So here they are. Both images have readability and composition issues but I am quite proud I finished them despite the situation.
The first one shows the pavilion viewed from the inside of the 35 Hudson Yards. In 2040, 35 Hudson yards is being refurbished and struggles two attract customers.
The second one is the pavilion viewed from the copse.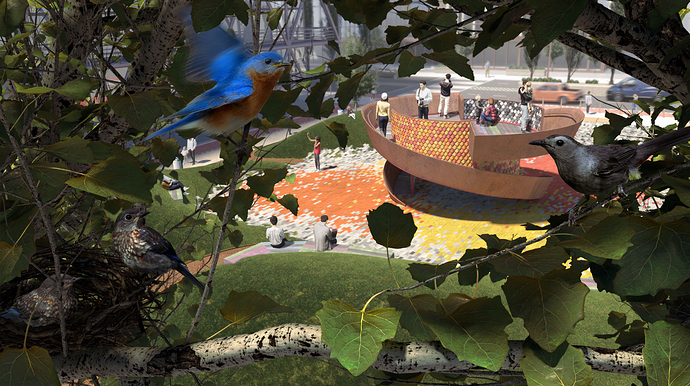 As we've got two more weeks before the deadline, I would be able to work on a third image. I will try to show the pavilion at night and display some of the light features I was planning to include in the final renders.
Credit for the free models used in image 1.
- ASMA 3d (birch)
- Oliver Triplett (Folding chairs)
- Alexandre Gomes (carboard boxes)