Originally published at: http://cabins.ronenbekerman.com/project/inspired-by-simplicity-by-ana-camargo/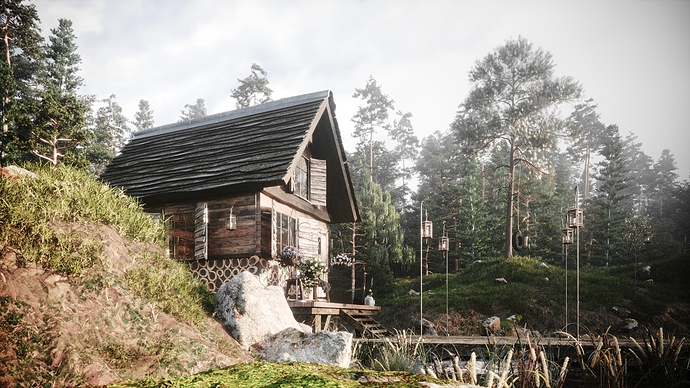 Special Thanks to Ronen and everybody involved organizing and sponsoring this challenge. I have enjoyed myself a lot while working on it. I found this challenge has brought me the opportunity to go deep into my thoughts and bring good memories back. I have also grown as an artist by exploring the given assets and finding new ways of achieving a much better result.
Below are a few considerations I'd like to point about my final submission.
Megascans: bringing realism to the next level.
For the final submission, I have explored nature assets provided by Megascans which I've found brilliant to work with. In my opinion, Megascans assets have improved the level of detail I am now able to offer as an artist. It was quite exciting to explore their library and find so many useful tools.
Yulio: an efficient way of presenting VR.
An absolutely fantastic platform. Easy to work with – very straightforward. I have been able to include three VR camera angles to my final submission. Adding hotspots was also very easy. Stereoscopic looks very good and feels natural. I am definitely spreading the word about Yulio.
Corona Renderer: Impressive by its nature.
In my final submission, I was able to explore Corona Renderer features like the Corona Image Editor, Corona Scatter, Fog, Sun and Sky, HDRI, translucency, and displacement (LOTS of it!).
In the end, my scene had more than 40 million polygons, loads of displacement and translucency in the majority of assets – Corona Renderer nailed it like it was nothing! I have always used Corona Renderer, and it has always been a brilliant engine to work with.
The Corona Renderer Image Editor is just fantastic – It has enabled me to edit 2Gb+ images in a few minutes. The Corona Image Editor is so comprehensive that it allowed me to go 100% Photoshop Free for this submission! Freedom from Photoshop – Finally

Background Concept:
As an architectural visualizer, my daily routine is surrounded by thoughts of progress like "building new horizons," "building the future" and so on…
Technology plays a crucial part in my routine as well – I depend on technology to be able to deliver the realism my clients expect from me. As an individual, my thoughts would take me somewhere else… away from my daily routine to remind me of who I am, what I am inspired by and what brings me joy. The result is then reflected in my work… and here I am, back to building new horizons, or the future, or whatever our Marketing experts want us to make… but adding a touch of humanity and sensibility to anything I intend to touch.
The CABINS challenge has brought me the perfect opportunity to work based on my own inspiration. During the brainstorming process, I had the chance of reflecting upon special moments of my childhood where phones, WIFI connection, and social media were slightly less relevant in our lives. The result is coming together to translate my true self: An individual who relies on technology to explore the true meaning of life.